Passanageset Park at Broad Meadows Marsh
Historical landmark in Quincy, Massachusetts
Address: 131R Sea St, Quincy, MA 02169
Passanageset Park at Broad Meadows Marsh
Calvin Road in Adams Shore – access from school parking lot and Quincy Youth Arena
1.3 miles of trails and acres up passive upland meadows
Re-opened and re-named in 2015, Passanageset Park at Broad Meadows is a beautiful, water-front park boasting magnificent views, 1.3 miles of walking trails and several acres of upland meadows.  Passanageset is a wonderful spot for bird watching.  Over 90 species of birds have been spotted at the park since last year. The park was officially renamed in 2015, after an extensive research project done by the 'History Girls' at Broad Meadows Middle School.

The Park Department is in the midst of making addtional enhancements to the park, including the installation of a 50′ pedestrian bridge in the center of the park.  Work on the bridge will be completed this spring.  The CPC has also approved additional funding for trail improvements, which will be completed later this year.

Dirt-biking is prohibited at Passanageset Park.  If you see dirt biking taking place there, please contact the non-emergency Police line at 617-479-1212.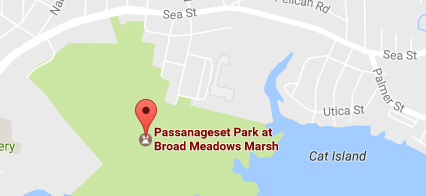 Passanageset Park at Broad Meadows Marsh is in the Parks category for Norfolk County in the state of Massachusetts. Passanageset Park at Broad Meadows Marsh is displayed on the Hull USGS quad topo map.
The latitude and longitude coordinates of Passanageset Park at Broad Meadows Marsh are 42.259465, -70.989169 and the approximate elevation is 16 feet (5 meters) above sea level.